WHO YOU WORK WITH MATTERS.
THE ULNICK'S ARE AMONG THE MOST SUCCESSFUL REAL ESTATE PARTNERSHIPS IN COASTAL ORANGE COUNTY AND BRING OVER 25 YEARS OF REAL ESTATE EXPERIENCE INCLUDING SUCCESS IN LUXURY PROPERTIES, INVESTMENT PROPERTIES, AND SHORT SALES. BRYAN AND SIOBHAN FEEL IT IS A PRIVILEGE TO HELP THEIR CLIENTS BUY OR SELL A HOME IN SOUTH ORANGE COUNTY AND SPECIALIZE IN THE COASTAL COMMUNITIES OF SAN CLEMENTE, DANA POINT, SAN JUAN CAPISTRANO, LAGUNA BEACH AND LAGUNA NIGUEL.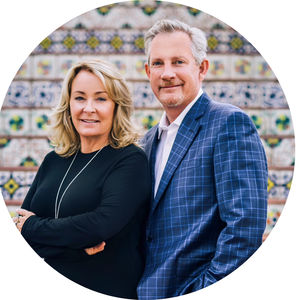 MEET THE ULNICKS
BRYAN & SIOBHAN ULNICK
The Ulnicks have an impeccable eye for detail and possess the vision to create innovative and detailed marketing plans designed to achieve results for each and every one of their clients. Utilizing cutting-edge technology, Bryan and Siobhan provide their buyers and sellers with online data to help reach their goals faster. They always go above and beyond for their clients to bring a higher standard of personalized one-on-one service while providing information and constant follow-through every step of the way.
With their knowledge and love of this beautiful area, they are the perfect complement to helping you find your ideal home and lifestyle. Very friendly, approachable, and family-oriented, the Ulnick's enjoy spending time with their children, going to the local beaches, riding around town on their bikes as well as participating in community service projects/events.. Whether you are looking to buy a home or sell your property, Bryan and Siobhan are able to help with all your real estate needs.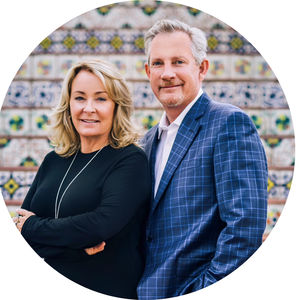 MEET THE ULNICKS
BRYAN & SIOBHAN ULNICK
At the Ulnick group we are an innovative boutique real estate group founded on local knowledge and personal relationships. We commit our deep local knowledge, global network, marketing and negotiating skills to your success. Having resided and raised their two children in San Clemente, the Ulnick's have dedicated their careers to helping families achieve their real estate goals in the iconic beach communities of South Orange County.
The Ulnick Group are among the most successful real estate partnership in coastal Orange County with over 25 years of real estate experience. We consistently uphold the highest ethical and professional standards, dedicating ourselves to our clients, our community, and passion for our profession.
The Ulnick Group is committed to providing their clients with a 5-star experience and will blend their experience with innovative technology to help navigate the entire buying and selling process with ease.
Thoughtful, friendly, yet persuasive with unyielding dedication, clients have the advantage of valuable guidance and advocacy in an often-competitive market. The team is proud to provide a seamless sales strategy resulting in financial gain, and an exceptional success record helping hundreds of buyers win bidding wars in some of coastal Orange Counties most sophisticated and competitive markets.
Mission Statement:
We believe extraordinary service equals commitment to detail, enthusiasm, empathy, and proactively positioning our clients to achieve their goals. Whether buying or selling, we strive to guide you to your personal success with transparency, professionalism, and thoughtful collaboration.
SIOBHAN AND BRYAN ULNICK ARE THE MOST KNOWLEDGEABLE AND PROFESSIONAL REALTORS THAT I HAVE EVER WORKED WITH.

Siobhan and Bryan Ulnick are the most knowledgeable and professional realtors that I have ever worked with. They originally listed my home for lease in 2017 and received multiple offers within a day. Near the end term of the lease, the Ulnick's procured a buyer within one week while my tenants were still occupying the residence. Every detail of the transaction was handled promptly and meticulously through closing in less than 30 days. Siobhan was there every step of the way resolving any issues that can typically can occur when trying to sell a property that is occupied by tenants. She was calm and was able to come up with solutions to make the closing as smooth as possible. I would highly recommend Siobhan and Bryan Ulnick and plan to use their professional services again in the near future when purchasing my next dream home.
Making Your Real Estate Dreams a reality
We believe extraordinary service equals the commitment to detail, enthusiasm, empathy, and the ability to proactively position our clients to achieve their goals whether buying or selling.
500+
Homes Sold in Orange County
102%
Average Sold to List Price
100%
Committed to Your Success
Buying too?
---
Learn about the experience of buying your home with the Ulnick Group
BUY WITH US
Schedule a call
---

If you have questions about any part of the process, please reach out to us. We have a whole team eager to work with you!
REACH OUT TO US
LOOKING TO BUY OR SELL IN COASTAL ORANGE COUNTY?
CONTACT US FOR COMPLIMENTARY REAL ESTATE ADVICE.
Call/Text:
(949) 370-7140 | Email: [email protected]