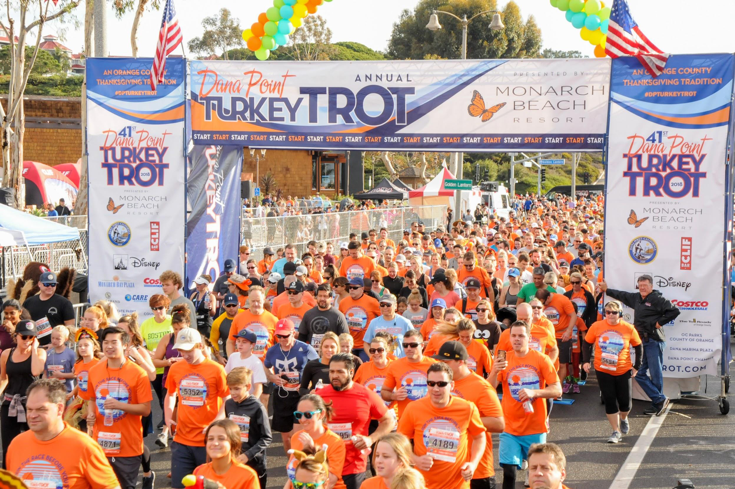 Image Source: Aliso Laguna News
The Turkey Trot held at beautiful Dana Point on Thanksgiving day has been going on for 42 years, making it a community tradition. Every year, families in the Orange County area get together to celebrate the race while showing off their single or group costumes to everyone watching the race. If you choose not to participate in the race, you can easily take part by showing up to cheer the runners on, volunteer your time for clean-up, or sponsor the race online.
If you are not looking to run in the race, you may take part in the Turkey Trot by volunteering, sponsoring, or even just showing up to cheer all the runners on with the Ulnick Group. Whatever way you decide to participate, it is important that you don't miss out!
Race Information
This event consists of multiple races including a 10k, 5k, and kids gobble wobble race so they have a chance to participate in the fun. Registration opens at 6 a.m. on Thanksgiving day and races take place at 7 a.m. starting with the 10k. To register, all you have to do is visit race site, pick the race you wish to register for and pay the fees for that race.
Costume Contest
To run in style, you are given the opportunity to dress up in a costume in hopes to win a prize at the end of the race. The categories for the costume contest are the best adult costume, best children's costume, and best group costume. This gives everyone the opportunity, young and old, to bring a little humor into their day while making it to the finish line and enjoying a fresh piece of pie!
Volunteer
If you are not looking to participate in the races, you can, however, volunteer at the race itself throughout the day. This is a great way to show your support for the race while staying involved with your community.
Sponsors
If you cannot make it to the race to run or volunteer, all hope is not lost. By visiting the race site, you can click the "Get Involved" tab and scroll down to where it says, sponsor or vendor. If you own a small food or beverage business, this is also a great way to attend the race while showing your support for all the runners involved. To sponsor, all you have to do is read through the instructions and fill out a sponsor form to get started.
This is the perfect chance this Thanksgiving for you to have some fun while supporting one of the communities most sought after yearly event. The race gives you the wonderful opportunity to not only get yourself ready for a Thanksgiving meal but also show off your creative side with the costume contest.
Presented by: